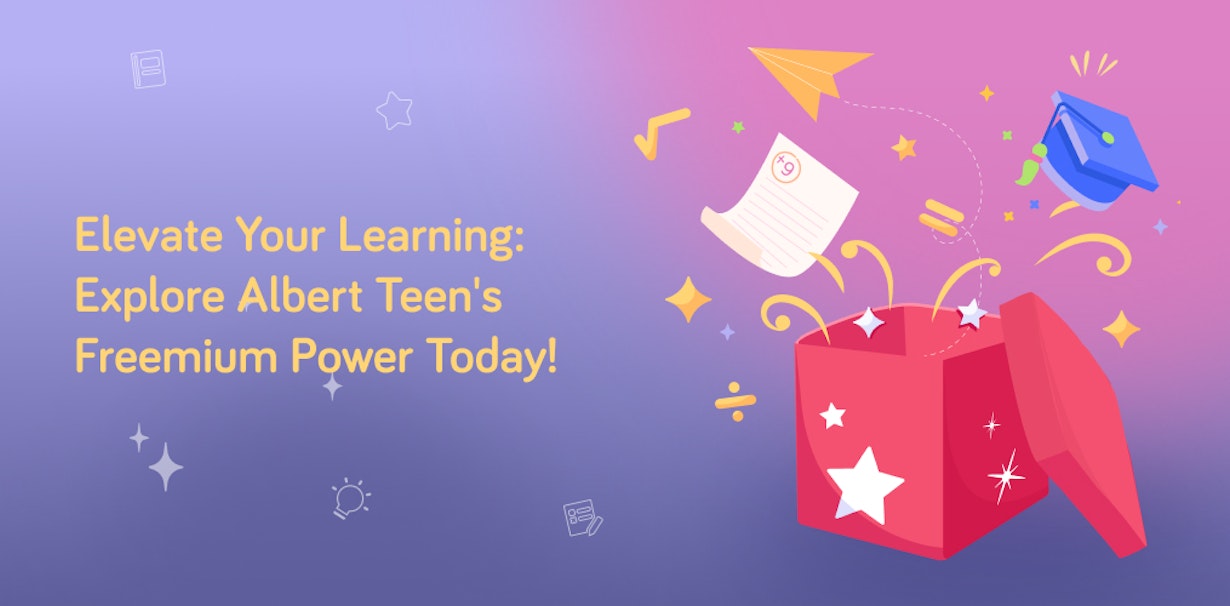 Unveiling Our New Freemium Plan
Supercharge Your Learning Journey
Whether you're gearing up for those big GCSE exams or Nationella Provet in Sweden, or just want to rock your school year, we've got your back. Mathematics, physics, biology– you name it, we've got lessons, exercises, and quizzes to help you shine. Plus, guess what? We've got secret tips and hints to make every exercise a breeze. 
And now, drumroll, please... We're launching a freemium version! You get to claim a number of free gifts every day, and we'll even help keep you on track with handy reminders.. So whether you're boosting skills, acing grades, or getting ready for exams, Albert Teen is your partner in crime. Get ready to shine in the world of learning!
The Power of Learning On-the-Go
In today's fast-paced world, learning doesn't have to be confined to classrooms. Enter the era of mobile apps shaping education like never before. Imagine having a study buddy right in your pocket, available whenever and wherever you need it. That's exactly what Albert Teen brings to the table. Say goodbye to lugging around heavy textbooks and hello to interactive lessons, exercises, and quizzes that fit your schedule and pace. With Albert Teen, you're in control.. Get ready to harness the power of learning at your fingertips and make the most out of every moment with Albert Teen!
Introducing Freemium: Enhancing Learning Possibilities
Get ready to take your learning journey to the next level with our brand-new free plan! We believe in making education accessible and exciting, and that's where freemium comes in. It's like a free VIP pass to unlock powerful features that supercharge your learning experience. With our "daily gifts" system, you'll have a daily number of access tickets to a treasure trove of lessons and exercises every single day. Whether it's diving into mathematics, conquering physics, or exploring the world of biology, our freemium plan empowers you to claim your daily gifts and embark on a journey of near-effortless learning. Get ready to turn every day into a learning adventure with Albert Teen!
Supercharge Your Study Routine with the Gifts System
Let's face it – maintaining a consistent study routine can be a real challenge, especially with the endless distractions that come your way. But fear not, because Albert Teen has your back. Introducing our awesome Gifts system, designed to be your study buddy and keep you on track. These gifts aren't just your typical reminders; they're your secret weapon in forming strong study habits. Imagine getting a nudge when you're able to dive into a lesson or practice an exercise  – all tailored to your preferences. You're in control. Set up the system the way you want, and let the magic unfold. Albert Teen's Gift System is here to make sure you're always in the loop, on the ball, and ready to conquer your goals! 
Unlocking Premium: Elevate Your Learning Experience
Get ready to take your learning adventure to a whole new level with the premium version of Albert Teen! While our freemium plan is awesome, our premium plan is like the golden ticket to an even more amazing world of learning. Picture this: unlimited access to lessons, exercises, and quizzes – yes, you read that right, unlimited! But that's not all. Say hello to "Albert GEO," an app that lets you explore the world of geography. Oh, and guess what? If you've got siblings, you can add them too, because learning is even more fun together! Ready to supercharge your education? Download the app, dive into the premium experience now and unlock a world of possibilities! 
User Testimonials: Hear What Teens Have to Say
Don't just take our word for it – here's what fellow teens are saying about their experience with Albert Teen's new features! One user enthusiastically shares,
"I want to keep coming back to see this notification every day."
Another excitedly exclaims,
"Albert Teen makes studying more enjoyable!" 
And they're not the only ones loving it. A satisfied user adds,
"The gift bit is a nice touch. It makes the app more fun."
But it's not just about fun; it's about progress too. As one user wisely puts it,

"The gift could be considered a reward for improving." 
And it's not just the rewards; Albert Teen's interactive approach is a hit as well.
"Teen is more fun, and helps me. I can look at videos and get hints," 
The consensus is clear – Albert Teen is shaping up to be an essential study companion that's engaging, rewarding, and just plain smart!
Available in the UK and Sweden
Albert Teen knows no borders! Whether you're in the UK or Sweden, we're here to elevate your learning experience. For our UK friends gearing up for GCSE success, Albert Teen offers comprehensive exam revision and practice in mathematics, physics, and biology, with a rich array of exercises, lessons, and quizzes tailored to your needs. Meanwhile, our Swedish companions can supercharge their skills, from preparing for "Nationella provet i matte" to mastering mathematics across year 4-9. With thousands of exercises, hundreds of lessons (including video lessons), and a treasure trove of tips and guidance, Albert Teen speaks your language, wherever you are in Sweden or the UK. So, no matter your geographic location, together we'll make learning an exciting journey! 
Get Started Today: Join the Freemium Revolution
Ready to take your learning to the next level? Unlock a world of knowledge with Albert Teen's free plan. Access over 18,000 exercises, lessons, and quizzes designed to boost your confidence and excel in your studies. Whether you're aiming for top grades or need a little extra help, Albert Teen has you covered with tips and hints that make learning a breeze. Don't miss out on this opportunity to supercharge your learning journey. Download Albert Teen now and kick-start your path to success! 
UK app download:
Sweden app download: